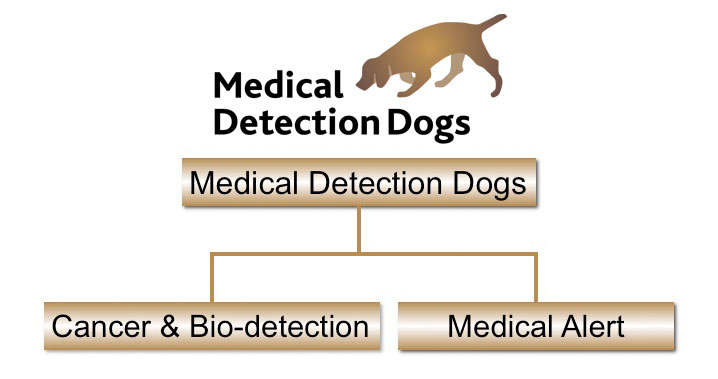 About us
We are a charity that works in partnership with researchers, NHS Trusts and Universities. Our aim is to train specialist dogs to detect the odour of human disease.
Dogs are renowned for their sense of smell. For centuries doctors have known diseases have characteristic odours which dogs may be able to detect.
Cancer cells release small amounts of volatile substances. Our Cancer Detection Dogs are being trained to detect these volatiles and we hope that this work and research will enable scientists to develop an early cancer screening system.
Our Medical Alert Assistance Dogs are trained to assist individuals who manage complex medical conditions on a day to day basis. Our dogs are taught to identify the odour changes that are associated with certain medical events.
Key messages:
The charity has two arms Cancer Detection Dogs and Medical Alert Assistance Dogs

Cancer Detection Dogs never detect cancer on a person but always by screening samples at our training centre.

Our cancer work has two aims A: to assist scientists through our research into the development of electronic systems that will assist in the early detection of cancer through cost effective non-invasive tests. B: In the short term our cancer dogs can provide second line screening for cancers that are currently very difficult to diagnose reliably, such as prostate cancer.

Our Medical Alert Assistance dogs are fully accredited allowing access to all public areas like a guide dog for the blind. They are trained to warn individuals of oncoming life threatening events.

We have a complete no kennel policy and use unwanted dogs needing a new home for our work whenever possible.

We receive no government support or grants and rely totally on trust funding and public donations.


Lack of money is slowing our progress.

We
DO NOT

train dogs to alert to epileptic seizures. For seizure alert dogs please visit www.support-dogs.org.uk